Heating, Cooling and Plumbing Services Master Group Real Comfort
Your one-stop company for all of your home maintenance needs in Bergen County. We make every effort to provide our customers with quick turnarounds, personalized solutions, and a worry-free experience.
Heating, Cooling & Plumbing Services in Clifton
Licensed Home Experts Serving Bergen County
Are you in need of efficient and affordable services for your plumbing, heating or cooling needs? Look no further than Master Group Real Comfort. With over 15 years of experience, our dependable home experts are dedicated to prioritizing the needs of families in Clifton and beyond.
Master Group Real Comfort is proud to be the one-stop shop for your maintenance needs. From boiler repairs to furnace maintenance to tankless water heaters, our fully licensed team is here to make your family's safety and comfort our top priority—and we have a successful track record to prove it.
Our experienced plumbing and HVAC professionals are here to ensure that your indoor comfort is taken care of. We have a hard-earned reputation for providing stress-free services, quick turnarounds, and a worry-free experience for our neighbors throughout Bergen County.
When you partner with us, our home service experts will take adequate time to understand your unique needs and provide the affordable and efficient care that your family deserves. When it comes to protecting your home and loved ones, don't turn to any service provider. Turn to a family-owned and operated company you can trust with all your plumbing and HVAC needs.
---
Our skilled Clifton technicians can help with your home service needs. Call (732) 334-3050 or contact us online to request an estimate.
---
I've gotta say Adam was very pleasant, kind and punctual. We had what we thought a steam boiler issue. After troubleshooting step by step he found out there was a block in the chimney after removing the vent. He recommended to have liner installed after block was cleared and we will be taking his advice. Keep up the world class service Adam. Master group is very lucky to have you.

Adam came and gave us a quote when our steam boiler stopped working. He was very knowledgeable and explained everything that needed to be done. All of the techs of master group were courteous and on time. The work was well done and Adam even replaced our thermostat at no cost. Would definitely recommend it.


Adam and the team were fantastic to work with. I had 2 tenants with no heat and they were able to come out, diagnose, and repair the issue. After being informed that my boiler needed to have the pressure valve and zone valve replaced, they found out the pressure valve was actually functioning and were honest to tell me that they only replaced the zone valve and I won't be charged for the pressure valve replacement. I appreciate that honesty and highly recommend their service. Thank you Master Group!

Solutions That Stand
Heating, Cooling, & Plumbing Services
Our reliable technicians at Master Group Real Comfort are proud to serve our neighbors in Clifton and the surrounding areas. With over 15 years of experience, our fully licensed team of home experts has a successful track record assisting New Jersey families and business owners with a wide variety of plumbing, heating, and cooling needs.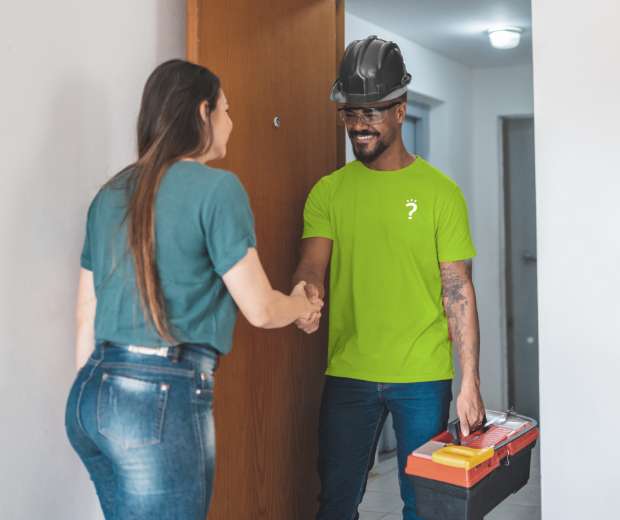 Comprehensive Home Services in Clifton & Beyond
Fixing a plumbing or HVAC issue can be an incredibly stressful experience for any homeowner. Not only can these repairs be expensive and time-consuming, but they also require specialized knowledge and expertise to ensure that the job is done properly.
From broken pipes to faulty wiring, trying to address these issues on your own can lead to costly and even fatal mistakes. Even well-intentioned homeowners can put their house or their loved ones at risk by attempting to resolve such complex problems on their own.
That's why it's important to turn to a home services team with a comprehensive understanding of home service repairs, from basic installations to complex system replacements. With over 15 years of experience, our expert technicians are well-equipped to assist our neighbors in Bergen County and the surrounding areas with a variety of plumbing and HVAC needs, including:
Plumbing & Drains – From emergency plumbing needs to burst or broken pipes to water filtration, Master Group Real Comfort has your family covered.
Heating – Your family can count on our Hazlet home service experts for your heating needs, such as heat pump installations, boiler repairs, and furnace maintenance.
Cooling – Our licensed professionals can help Hazlet families stay cool in their homes by assisting with AC installation, replacement, repair, and maintenance. From AC filters to ductless mini splits, our dependable cooling services can help restore your family's indoor comfort.

Trusted, Reliable Service Why Choose Us?
Financing Available

Family Owned & Operated

Emergency Service Available

Fast, Reliable Service

Nearly 15 Years of Experience

Licensed, Bonded & Insured

High-Quality Professional Home Services You Can Trust
Our seasoned home experts at Master Group Real Comfort have the technical training, skills, and experience necessary to quickly resolve plumbing and HVAC issues for families in Bergen County, and beyond.
We strongly believe that our customers shouldn't have to choose between affordability and high-quality home services, which is why our fully licensed professionals are committed to providing the highest standard of care to our Clifton neighbors.
Sadly, many families make the mistake of opting for cheaper services that can end up costing them far more in the long run. That's why all of our work is backed by a satisfaction guarantee, allowing you and your loved ones to rest easy knowing that the job will get done efficiently and correctly the first time around.
Why Choose Master Group Real Comfort?
At Master Group Real Comfort, we prioritize safety above all else and make sure our customers are protected from potential hazards. Not only is our team of home service experts fully licensed and insured, but we also offer a 1-year warranty on installations and repairs to restore your peace of mind and let you get back to what matters most.
If you require fast and affordable service for an plumbing or HVAC issue in Clifton or the surrounding area, don't hesitate to reach out to our expert technicians at Master Group Real Comfort. Our friendly team of professionals can collaborate with you to find an optimal solution to your family's needs, restoring your indoor comfort in your home or business.
Our top-notch professional home services are the answer to your plumbing, and HVAC needs. Don't take our word for it—check out these recent reviews from customers who were once in your shoes. When it comes to protecting yourself, your home, and your loved ones, turn to a home services company with a customer-backed reputation for excellence.
---
Are you in need of professional plumbing or HVAC services in the Clifton area? Call (732) 334-3050 to request an estimate or schedule a service.

Here for You
Our Service Areas
Make Master Group HVAC your one-stop resource for all of your home maintenance needs.

Fast and Reliable Service Guaranteed
Contact Our Team